A Return to the Dog House
Alhambra's 2022 Homecoming Week
As new and returning students filled the school's hallways and classrooms for the 2022-2023 school year, everyone anticipated the much-awaited Homecoming Week. This year's theme for homecoming was 'Superheroes,' with each grade assigned a superhero to focus on for their floats. Though many students were excited about the homecoming football game and dance, there was still much to do in the week leading up to those events.
For every day of the week, students dressed up in various outfits according to the theme of the Spirit Day. Monday saw students returning to school clad in jerseys and merchandise to show off their favorite sports teams for Sports Day. From the San Francisco Giants to the Golden State Warriors to even Alhambra's own sports teams, every student had their own team they wanted to support and celebrate. For lunchtime activities, students played Tug-of-War. 
Next was Suburban Saturday (despite being on a Tuesday)—half of the student body adorned jeggings, yoga jackets, and sunglasses to mimic "Soccer Moms," while the other half wore aprons, hats, and even brought spatulas to mimic "BBQ Dads." For lunchtime activities, students participated in a Donut Eating Contest. 
On Wednesday, students decorated the hallways with their pink outfits—though many are familiar with the Mean Girls quote, "On Wednesdays, we wear pink," pink is also associated with Breast Cancer Awareness. Pink ribbons could be seen throughout the student body to honor breast cancer survivors and those currently affected by it. Lunchtime activities saw students participate in water balloon tossing games. 
Thursday was Superhero Day in honor of this year's theme for homecoming. From DC superheroes like Superman and Wonder Woman to Marvel superheroes like Iron Man and Captain America, everyone was dressed as their favorite superhero—one student going as far as to dress up in a beloved Spider-man costume. Lunchtime activities included karaoke for that day.  
And finally, the day of the rally came. Friday saw students decked out in blue and gold to show off their school spirit. With classes only thirty minutes each that day, the rally took place in the gymnasium as soon as 7th period ended. Colton Mesones, Alexia Hisquierdo, Kylee Sciara, and Camille Ramirez were the masters of ceremonies for the afternoon, engaging with the crowd and ensuring audiences were entertained. After, they introduced Homecoming Court: Rylee Adams Barnes, Tyler Allan, Kyomi Apalit, AJ Bower, Layna Boyd-Panaguiton, Olivia Carter, Mae Cleland, Alexa Cruz, Aspen Dexter, Ava Edwards, Malorie Hill, Arvin Limjoco, Sara Meadors, Alex Perez, Matthew Prado, Matthew Turnquist, Jesse Salcedo, Emmett Gargaro, Jack Miller, and Kayla Hays. Some students were introduced in pairs or trios, dancing to a small section of a song before taking their seats on the court, followed by fun facts about each student. 
Right after the Homecoming Court was introduced, Alhambra's very own cheer team took to the floor and began performing a routine that took the audience by storm! Color Guard soon followed, twirling their flags to the Marching Band's energetic piece—students and staff alike oohed and awed as the Color Guard threw their flags into the air and caught them with skilled precision.
When performances were over, the moment everyone had been waiting for arrived: the winners of Homecoming Royalty were about to be announced. 
"It's almost coming to the end," Camille Ramirez announced to the crowd. "Now, before we announce our Homecoming Royalty, we want to thank you all for coming and hope to see you on Main Street at 3:00 for the parade and game tonight!"
"Now, for the moment you have all been waiting for!" Colton Mesones proclaimed.
Students waited with baited breath as the MCs brought out the slips of paper revealing the winners. With a suspenseful drumroll, the MCs announced the three winners of Homecoming Royalty to be AJ Bower, Malorie Hill, and Arvin Limjoco! Audiences erupted in cheers and screams of delight as their friends were given golden sashes proclaiming them Homecoming Royalty. And with that, the parade could commence.
Families from all around Martinez came together on Main Street to watch all of the hard work the students had done for the past few weeks. The Freshman float donned a stratotanker plane belonging to Carol "Avenger" Danvers, aka Captain Marvel. The Sophomore float held a giant replica of Mjolnir, the ancient hammer of Thor, surrounded by pillars to replicate the ancient home of the gods, Asgard. The Junior float had a galaxy-painted background to accompany a replica of the inside of the Milano, a spaceship used by the Guardians of the Galaxy. And finally, the Senior float had multiple buildings to replicate New York, the home of the amazing Spider-man!
Alhambra's 2022 Homecoming Week concluded with a football game on our very own Knowles Field on Friday Evening, and a Homecoming dance in the school's gymnasium on Saturday evening.
Leave a Comment
Donate to The Dog Watcher
Your donation will support the student journalists of Alhambra High School. Your contribution will allow us to purchase equipment and cover our annual website hosting costs.
About the Contributor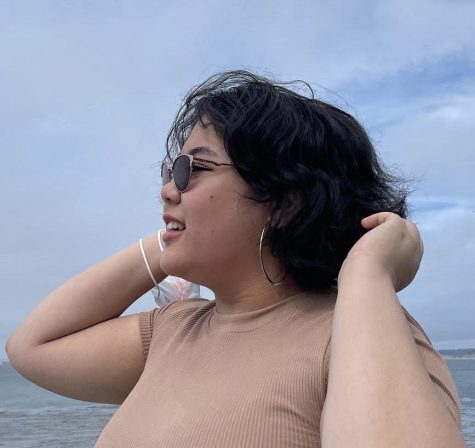 Rianna Herrera, Chief Editor
Rianna is one of the Chief Editors and co-founders of The Dog Watcher. Writing is one of their biggest passions, and what better way to express this than...