A Mystery Unraveled
How Spike the Bulldog became AHS's mascot
Have you ever wondered, "Who came up with Spike the Bulldog and why?" To dive deep into history, we must go to the beginning. Alhambra High School was founded in 1887 but was not a full-on school; it was just a few classes and nothing too significant. It didn't become the beloved school we know today until 1901; originally known as Alhambra Union High School, the mascot was not a bulldog but a panther. As all Bulldogs know, our rival school is College Park, but in the 1900s it was known as Antioch Union High School. Alhambra and Antioch Union High School had three things in common:
1.  Initials (AUHS)
2. Colors (blue and gold)
3. Mascot (Panthers)
But all of this changed when the student body voted that Alhambra Union High School would now be known as the Home of the Bulldogs in 1947. How and why they changed the mascot during the 1946-47 school year remains in mystery. Many theorize that Alhambra's principal "Butch" Knowles and the Antioch principal might have hatched the idea. Rumor has it that coins were flipped either by the administrators or by the two teams' coaches. One version says that Antioch won a game one day and chose the mascot while another says that Alhambra won and kept the colors. Alhambra's student body needed two elections to select the new and improved mascot. The first vote was held with the Student Council elections on May 14, 1947.  The choices were Wolverines, Bull Dogs, Wild Cats, Cougars, and Hornets. In the Contra Costa Gazette published on May 17, 1947, it states, "The checkers counted vote after vote, calling out 'Bulldogs,' 'Wolverines' in turn again and again.  Then came the last ballot.  Breathlessly, the judge opened it, read the choice, and announced 'It's a tie.' And so it was."
The second vote was held in early June. The students had to yell out with pride, "'Fight on you Bulldogs!'" or "'Tear 'em up, you Wolverines!'" After a tough decision, the students voted once again and picked the bulldogs for the win. The reason was that Bulldogs contained the same number of syllables as Panthers. Thus leading to our beloved bulldog, Spike.
View Comments(1)
Donate to The Dog Watcher
Your donation will support the student journalists of Alhambra High School. Your contribution will allow us to purchase equipment and cover our annual website hosting costs.
About the Contributor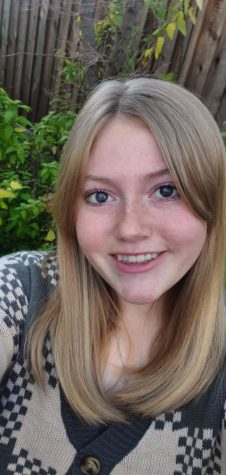 Natalie Hull
Natalie Hull is in the Class of 2026 andis currently in the yearbook class. She is planning on becoming an honors student in the class next year. She is...