A Night to Remember
Alhambra's upperclassmen enjoy an amazing evening at the biggest event of the school year: Prom!
From sparkly dresses to tuxedos to two-inch heels, Alhambra's upperclassmen (as well as a few guests) found themselves dressing up in glamorous outfits in anticipation for the long-awaited Upperclassmen Prom, held on April 29th! Unlike the years before, Alhambra's 2023 spring prom was composed of all upperclassmen, combining Juniors and Seniors. Though many were concerned about the size of the prom attendees and the location, Alameda County Fairgrounds proved to be the perfect venue to host the Upperclassmen Ball.
Once students arrived in their designated buses to the location, they were greeted with various lights hung from tree to tree, mimicking lanterns from the movie Tangled where the theme for the prom, "At Last I See the Lights," was inspired from. The venue was split into two areas: the outside, where students hung out with friends and enjoyed the fabulous decorations and scenery, and the inside, where the DJ led the dances for the night with cool songs and hyped up the audience. Some songs included "Players" by Coi Leray, "Starships" by Nicki Minaj, "Finesse (Remix)" by Bruno Mars and featuring Cardi B, "Gangnam Style" by PSY, and the all-time favorite song for DJs to play, "Apple Bottom Jeans" by T-Pain. Other than dancing, students could also enjoy taking photos at a photo booth, accompanied by various props to make their pictures stand out even more. For dinner, students were treated to a meal of various pastas, sauces, breads, and ham, as well as cookies for dessert.
When asked about how the event went, one senior reported that "the experience was fun. I liked dancing with my friends and eating the cookies they had. I also appreciate how they had a basket for stuff in the girls bathroom like period products, hair gel, bobby pins, etc." Another senior stated, "Prom was pretty fun this year from my experience. I think the venue was a little nicer than last year, and it was a lot more spacious. The food honestly wasn't really the greatest, even though I knew I probably shouldn't expect much. I remember the menu claiming to have things like different cakes and cobblers for dessert but there were really only cookies. Maybe I was a bit late to the table, but either way the food was underwhelming. But even then I had fun spending time with my friends and making new ones." The same senior also stated, "The music at prom was just alright in my opinion. There would be ones every once in a while that I knew but other than those I just danced to music I didn't know with my friends. I didn't really even here songs that I'd hear on the radio which were mainstream. It would've been cool to play a more diverse range of genres and artists for songs. It might've just been a personal preference issue with music for me, but I just wasn't a big fan of the music that was played."
Regardless, students had a great time at the Alameda County Fairgrounds making long-lasting memories and enjoying the end-of-the-year celebrations.
Leave a Comment
Donate to The Dog Watcher
Your donation will support the student journalists of Alhambra High School. Your contribution will allow us to purchase equipment and cover our annual website hosting costs.
About the Contributor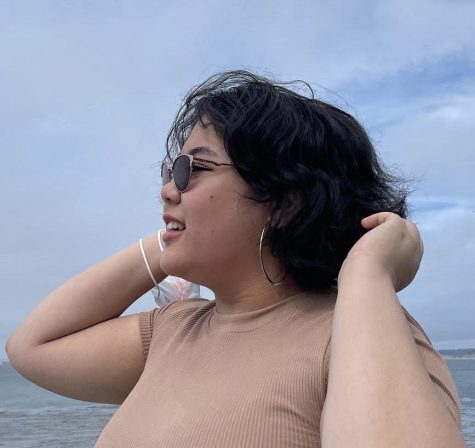 Rianna Herrera, Chief Editor
Rianna is one of the Chief Editors and co-founders of The Dog Watcher. Writing is one of their biggest passions, and what better way to express this than...